2015 SOM Prize and Traveling Fellowship Applications Open
The SOM Foundation is currently accepting Intent to Apply forms for its 2015 SOM Prize and 2015 Traveling Fellowship. Forms must be postmarked on or before April 20, 2015. Granted each year, these awards are emblematic of the SOM Foundation's mission to nurture emerging talent as identified in students of architecture, design, and urban design.
The $50,000 SOM Prize is a research and travel fellowship that enables one outstanding applicant the opportunity to travel in connection with carrying out in-depth research on a subject of their choosing; to meet with other professionals in the field; and to pursue study outside the realm of established patterns.
The $20,000 Travel Fellowship offers an applicant the opportunity to expand his/her professional education beyond the classroom through the observation of buildings, design, culture, and history that can only be achieved through travel.
The SOM Foundation grants a variety of awards to students of architecture, design, urban design, and structural engineering. First awarded in 1981, the SOM Foundation fellowships are now an important measure of achievement among architecture and engineering students and their colleges and universities. The Foundation's goal is to instill in its fellows a heightened sense of responsibility as future design leaders by offering them an opportunity to deepen their understanding of the complexities of the built environment. The awards given are: the SOM Prize for Architecture, Design and Urban Design; the SOM Travel Fellowship for Architecture, Design and Urban Design; the Structural Engineering Travel Fellowship; the UK Award; and the China Prize.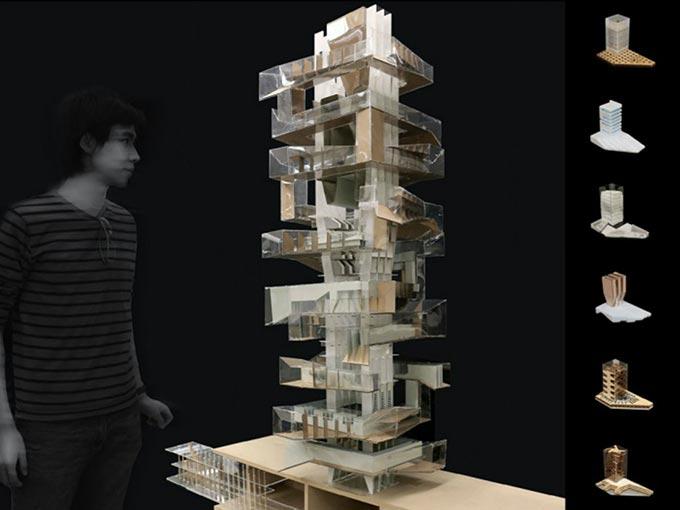 The work of Erioseto Hendranata, 2014 SOM Prize winner.