SOM Foundation Announces Winners of the 2016 China Prize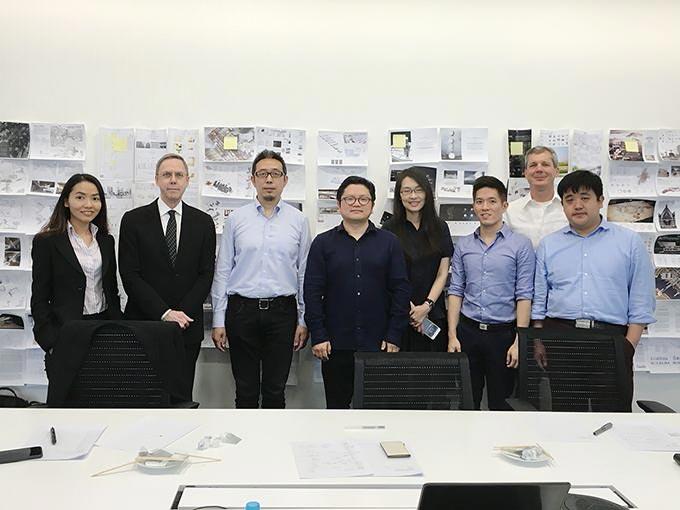 China Prize jury convenes at SOM's Shanghai office. Pictured (left to right): Leilei Zhang, SOM; Eric Tomich, SOM Director; Qian Qiang, Juror; Philip Yuan, Juror; Rossana Hu, Juror; Justin Chen, SOM; Peter J. Kindel, SOM Director and Jury Chair; David Zhang, SOM. Photo © SOM.
On Thursday, May 5th, the SOM Foundation announced three winners of its 2016 China Prize. Each award winner will receive a $5,000 fellowship grant for research and travel outside of China. The fellowships enable students in the field of architecture and urban design to broaden their education through travel and gain an understanding of the need to improve the built and natural environments.
The winners of the 2016 China Prize are:
Qiaozhi Li, Tianjin University
Su Tianyu, Tsinghua University
Li Dai, Huazhong University of Science and Technology
The China Prize is open to undergraduate or graduate students based in China who are in the last two years of their university degree in architecture or urban design. To enter, students had to submit a portfolio, research proposal, and travel itinerary.
The awards jury convened at SOM's Shanghai office to review and select the winning submissions. Chaired by Peter J. Kindel, SOM Director of Urban Design and Planning, the jury comprised architects practicing in China. They included Rossana Hu, Founding Partner of Neri & Hu Design and Research Office; Phillip F. Yuan, Professor at Tongji University's College of Architecture and Urban Planning; and Qian Qiang, Chief Architect at UDG Shanghai and Professor at Southeast University.
The jury evaluated submissions based on three criteria: design positions investigated or taken, originality in design and graphic communication, and proposed research and travel itinerary. It favored proposals that expanded thinking beyond traditional Asian or Western ideas of urbanism and architecture. Juror Philip Yuan remarked that the winners "had an original vision of the future and a different interpretation of Asia."
The SOM Foundation grants a variety of awards to students of architecture, design, urban design, and structural engineering. First awarded in 1981, the SOM Foundation fellowships are now an important measure of achievement among architecture and engineering students and their colleges and universities. The Foundation's goal is to instill in its fellows a heightened sense of responsibility as future design leaders by offering them an opportunity to deepen their understanding of the complexities of the built environment. The awards given are: the SOM Prize for Architecture, Design and Urban Design; the SOM Travel Fellowship for Architecture, Design and Urban Design; the Structural Engineering Travel Fellowship; the UK Award; and the China Prize.